Live Discussion – " How Culture and Cultural Exchange can nurture the 21st Century Learner/Student profile traits and specially Creativity, Innovation and Global Mindedness"
Main Guest Speaker
International Art and Culture Philanthropist Mr. Giandomenico Padovan
Live Interview: The Role of Culture in Education
Defining and Exploring different methods, strategies, approaches, and frameworks needed to integrate culture, cultural harmony, and cultural exchange within the different layers of the schools/educational entities' curricula and facilitating/learning environment. Today, culture and cultural exchange/harmony are considered central pillars of Global Mindedness, Creativity, Innovation, Extra/Co-Curricular Activities, and  STEAMS education.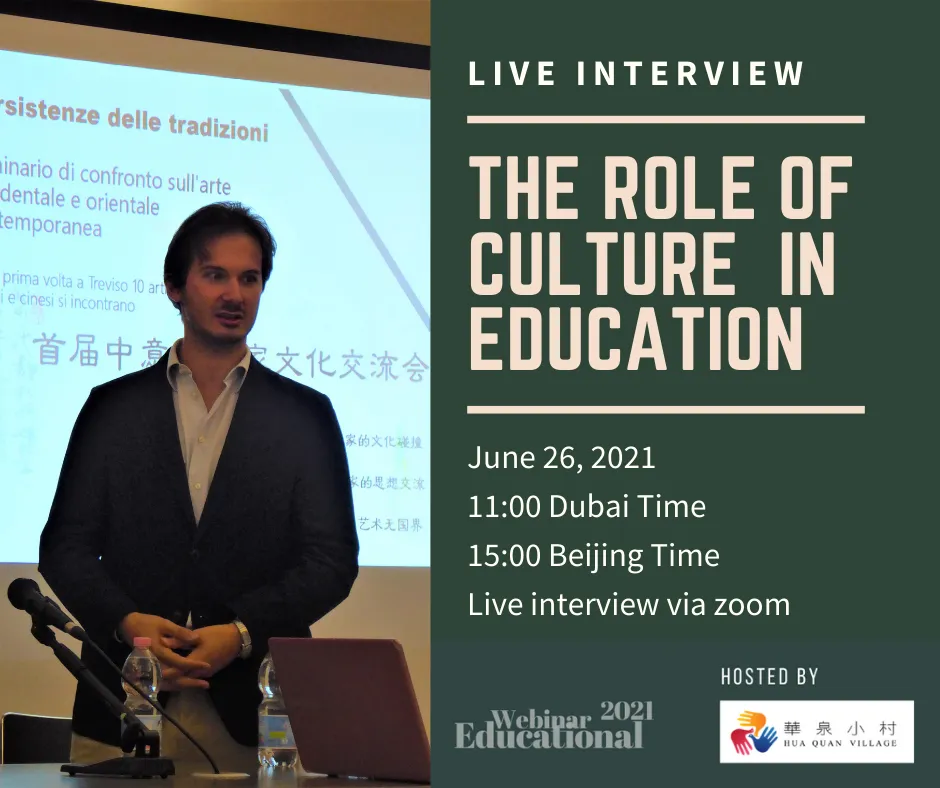 The Role of Culture In Education
(Live Discussion)
This interactive live discussion features Mr. Giandomenico Padovan, an internationally acclaimed art and culture philanthropist. He will explore how culture and cultural exchange can nurture the 21st century learner / student profile traits, especially creativity, innovation, and global mindedness.
Mr. Giandomenico Pandovan will focus on the following areas:
The different 21st century learner profile traits that cultural education and cultural exchange can nurture within students;
How cultural exchange and education can help reinforce the global mindedness pillar of education;
The different types of extra-curricular activities that schools can organize to promote cultural exchange and to develop a harmonious and collaborative mindset in their students;
The different methods and approaches to help establish an harmonious international cultural environment within schools, universities and educational entities;
The role model framework needed to integrate the country's culture and cultural harmony within the different schools' curricula;
How cultural harmony can help nurture 21st century leadership traits within students.
                                                                                               Co-founder,
YB-Cultural Exchange
Mr.Giandomenico Pandovan is the co-founder YB-Culture Exchange, a private company based in Beijing, China, that works in the field of cultural projects and exchanges, between China and Western countries. Giandomenico  is  experienced in the field of cross cultural programs, especially related to visual arts. Before 2017, the year when he co founded YB-Culture Exchange, he worked for different companies in China, Australia and Italy, in the field of International business and cultural programs, gaining experience in working in different and multicultural environments.
Our honorable guest will be interviewed by John Bayramian. John has more than 33 years of international academic leadership and pedagogical/administrative experiences in various programs such as International Baccalaureate (IB), American, British, French Programs across USA, Europe and the Middle East.